At Air Charter Scotland we are incredibly proud to recognise the work our pilots do. On this World Pilots Day, we asked them why they were inspired to pursue this adventurous career.
Alan Ruddock is a Legacy 650 Captain and Legacy Training Captain, he said:

"For me, it's the travel. Seeing different destinations and cultures that you wouldn't otherwise see. I caught the 'aviation bug' whilst working part-time as a baggage handler. Having the privilege to dip into other cultures as if a traveller from another world or time is what it's all about. Watching the school run in Tajikistan; to being in a NASA facility in California. Being in a Souk in Morocco; to perpetual daylight in the Arctic Circle, and all sometimes in the space of the same week!"

Lucy Youdell, an Air Charter Scotland Captain on the Embraer Legacy 500, spoke about the influence of her childhood on her career choice:

"As a child, I was very fortunate to be taken on many foreign holidays and was always so excited at the prospect of being at the airport and getting on a plane much more so than going on the holiday itself! A pilot was still perceived as a very stereotypical male role when I was younger so I always aspired to be cabin crew; a well-established career within the industry that fascinated me so much. When I was at secondary school the headteacher put the idea into my head that it was possible, for a young small female like me, to actually get to fly these wonderful machines for a job, so I had a trial lesson in a Piper PA28 on my 16th birthday and the 'bug bit'. I'm delighted as to how far I've come and very excited for what lies ahead."

Daniel Woods, a Captain for Air Charter Scotland on the Citation Latitude, spoke of catching the flying 'bug' young: 

"At the age of 14, I went along to Fairoaks Airport in Surrey with my Father who was having a business meeting with his clients. After his meeting, he asked if I would like a trial lesson, and without hesitation, I excitedly said "Yes please!". 
"A few short moments later I found myself climbing into an aircraft and taking to the skies with an instructor, it is safe to say that from that day, I caught the bug for flying. I later discovered that as a very young child I would tell my parents that I wanted to fly like a bird when I grew up and I think this is about as close as I'll get to fulfilling that wish."s
Nick Wildman, a Legacy 500 Captain and Fleet Manager overcame obstacles to reach for the sky:

"I've wanted to be a pilot since a small boy, but maths was never a strong point for me, I had to retake it just to get a grade C for GCSE. In fact in high school, I can remember one teacher, in particular, laughing at me, and telling me "you'll never be a pilot, you're no good at maths, and you can't see" in reference to that fact I wear glasses."
"Fast forward 25 years on, and I've been in aviation as a pilot for the last 16 years, 8 of those as a Captain. If you want something enough, you'll defy all odds to achieve it. Have confidence and belief in yourself regardless of what others tell you!"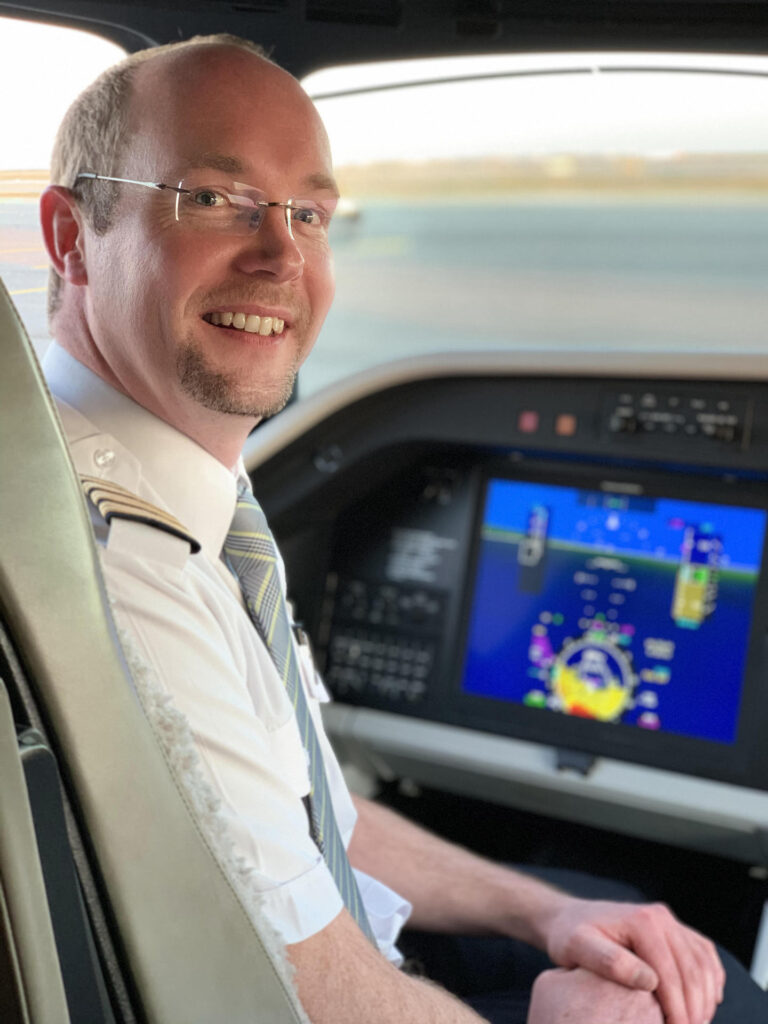 Our pilots are a truly talented crew, and we hope their stories can inspire another generation to take to the skies.